Also.... since watching series three of Being Human I've discovered I find Robson Green very hot.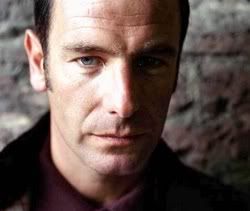 You're welcome.

Wire in the Blood
is totally creepifyingly amazing. The camera work is all scattered and zooming and unconventional that it gets a few scares. Also there are psychopaths. But mostly it's the acting. Carol Jordan and Tony Hill actually make me think of Bones when it was actually good, slight subtexty moments and real communication... Dr. Tony Hill reminds me a lot of a psychologist Charlie Crews.
And this. Just this.
"Sex with me definitely isn't worth a three hour drive. Maybe a five minute walk. If it's not raining."
HOW CAN YOU NOT LOVE HIM?
XD
Should I be feeling guilt that my next thought was
HE AND SAM WITWER MUST BE IN SOMETHING TOGETHER AND THERE SHOULD BE PLENTY OR ARMAND ASSANTE FACE-TOUCHING MOMENTS!?!
Okay, so a quick post to let you guys know I'm alive. I'M ALIVE. I am getting published and getting paid for a paper I wrote last semester. Booya. Doing Bistats homework. Snagging a few types at my chlavis fic which should be out tomorrow.