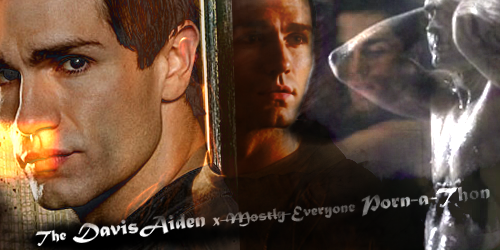 My concentrations are in Chloe/Davis, Josh/Aiden, Lex/Davis, Chloe/Aiden, and Rebecca/Aiden shipping, but feel free to suggest things. You can prompt any way, words, song lyrics and sentences...PICTURES... ships... or you can let me pick the ship and end up with those things up there. Nothing is too wacky. you want werewolf Davis/Josh? Post it. Hee.
Pick any prompts you like to do, and drool freely over the fics.
A few rules.
1. No leaving DavisAiden clothed unless it is in a very sexy way. THE PLOT is very important to us.
2. No JimmyHenrys. Especially not naked.
3. No defenestrations, unless it is the aforementioned JimmyHenrys or bot-Chloes or some such nonsense.
4. No discriminating against Doomsday. I'm sure he just wants to be petted.
5. Please post the responses under the prompts for easy devourment.

So play, won't you?
So, the Twenty-Sixth is here and I'm all stoked to get up on the action, so leave me prompts and play my darlings. Go all crazy on the prompts if they interest you, I barely know you, or even if I'm stalking you. it's all in fun and I will comment. I'll be playing all week, so don't stress. ;)
Current Mood:

hot